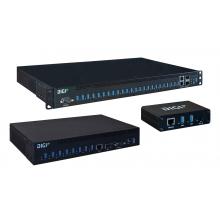 Digi have released the next generation of their popular USB over IP products, the new AnywhereUSB Plus range.
See the full range of AnywhereUSB devices here.
These products feature Faster Speeds (Gigabit and Faster Ethernet, USB 3.1 & Stronger Security) with Wi-Fi and Cellular options and Linux Driver support coming soon.
Main Features:
- Support for up to USB 3.1 Gen 1
- Multihost support
- Gigabit Ethernet and higher speed network connectivity
- Support for more types of devices
- Port power for charging smart devices
Future enhancements:
- Future support for Digi's Cellular CORE modules (firmware update)
- Future support for Linux driver
Secure and Manageable:
- Compatible with Digi Remote Manager: deploy, monitor, manage, maintain
- TrustFence® Security: authenticated boot, dedicated security co-processor, encrypted data storage, unique default passwords, and certificate management